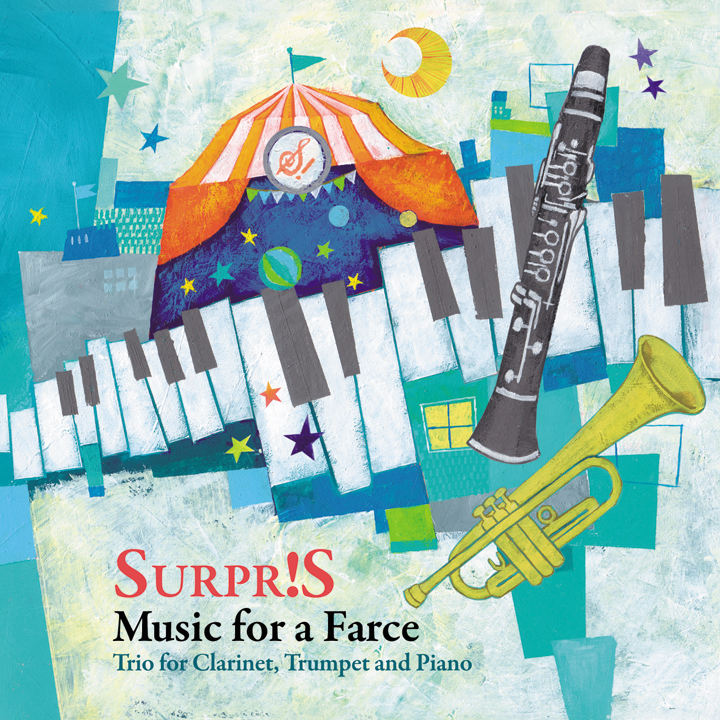 We would like to introduce our debut album by Yuto YOSHIDA (clarinet) and Yoshihiko NISHITANI (trumpet) ; promising young professional musicians who have performed with many orchestras in Kansai area of Japan, and Haruna SADO (piano) ; an extremely talented pianist who has fascinating tone with wide variety of color.SURPR!S means "surprise" in French. We named that because we would like the audience to be surprised and impressed by our performance. We do our best on making music to keep our audience surprised!"Music for a Farce" will invite you to the wonderland where you can enjoy so many colorful jewelry like motives. In this piece, we collaborated with fantastic percussionist Kousuke NAKAYAMA.This is a very unique album that contains only pieces for rare instrumentation (clarinet & trumpet). We are very pleased to introduce this album to everyone!
Music for a Farce – Trio for Clarinet, Trumpet and Piano –
Program:
Normand A. Pepin / A Sweet Suite
Gordon Jacob / Double Concerto for Clarinet and Trumpet
Walter S. Hartley / Two dances for Clarinet, Trumpet and Piano
Paul Bowles / Music for a FarceWhat's this lovely tone?
---
¥2,000(tax incl.)
Artist : Yuto Yoshida(cl), Yoshihiko Nishitani(Tp), Haruna Sado(Pf), Kousuke Nakayama(Per)
Release Date : 2015.3.1
JAN : 4580481392086
Genre : Classical
Catalogue Number : LTJP-1001
Release Country : Japan
Format : CD
Label : Luckty Japan
Shop: